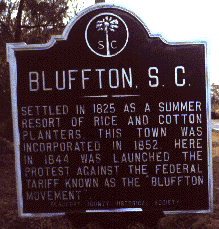 ---
Ten years ago few maps of the US had the small spec near the Georgia border stating, 'Bluffton.' Today most AAA road maps of the southeast show it, largely for its proximity to Hilton Head Island. All roads to the island pass through or near Bluffton. The increase in traffic, particularly in the summertime, has changed a few things in the town: Scotts Meats moved to a larger building, the Bluffton Oyster Company has a booming business, and artisans struggle to keep their studios stocked with wares for the onslaught of tourist stopping for gas or lemonade before they reach the island.

However, a suspended box of blinking red lights and 4 emormous stop signs still mark the only intersection in town. No one would dream of replacing them with a stoplight. In spite of the increased revenues from tourism we suspect that the town's funds still come from the speeding tickets issued to New Yorkers cruising through town in their fancy BMWs at 2 or more miles over the speed limit . As always, Mullet Day occurs on June 17th, a day filled with eccentric activites, a horseshoe throwing tournament and lots of fried mullet with hush puppies and cole slaw.

In Bluffton I first discovered art.
---
---
Dorah's Daufuskie Island Deviled Crab