Yes Chiquita, there is a stippled plantain..

---
Eat More Fruit!
---
Indeed! Tongan stamps *do* look like fruit stickers!

(Implements of postal delight kindly donated by Ron Hartman

---

Most of these stickers come from scans made of the collection housed on our refrigerator door. It is quite immense, this collection. I have considered expanding it to the neighboring cabinet doors and below-counter drawers, but my fellow roomates have suggested I refrain from doing so.. In the winter months much of the collection peels and falls from the refrigerator door, requiring the constant attentions of a purple glue stick to keep it in its place...

Click on the hypertext links to open expanded and added images of the collection...

Honorary Collections


1995's Australian Summer, Autumn and Winter collections, furnished and interpreted by jsam.

From The Refrigerator Door


Welcome to the wondefully, fecund world of the Chiquita Banana, including special 50th anniversary stickers of Miss Chiquita. Don't forget to place your chiquita banana stickers in the eye pieces of Eben's pince-nez for good luck.


FruitCo's UGLI Amigo


The corporals of the Melon Brigade
| | |
| --- | --- |
| | |
| Ever eat a pummelo? | .. or ORANGE FLESH? |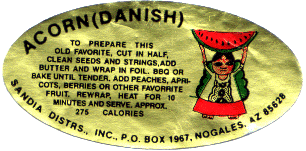 Sandia, the little girl with the watermelon on her head.
Stickers enhance nutrition.
As always, I am delighted to receive any stickers, domestic or foreign. I regularly accept donations sent by conventional post or as uuencoded messages. I may place them here. I may turn them into art. With a return address I may even be inclined to send you something in return . . .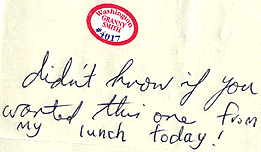 B.R.Y.
Amory, 3rd floor.
75 Francis Street
Boston, MA 02115
U.S.A.
.. and if you feel the need for more, ckeck out the Fruit Bowl, mass action sticker mass from the U.K., the home page for DOLE, and Ilkka's Banana Label page, representing the best of the Pacific rim.
---
... and so I said to him, 'Jello is the edible form of a slinky...'