Micronuclei are formed due to DNA breaks. During the cell division, the chromosomes are drawn toward the two poles of the cell by spindle fibres. However, the breaks possess no centromere and hence spindle fibres can not attach to them. These breaks remain outside the main nucleus and appear as small nuclei, which are known as micronuclei.
<![if ! supportEmptyParas]> <![endif]>
Micronuclei can occur either by single strand breaks as in chemical genotoxicity or by double strand breaks as in radiation damage. Although the mechanism of micronucleus formation and chromosome damage are different, there can be indirect correlation between these two. In case of chemical genotoxicity, the production of micronucleus is S phase dependent. The basal damages and single strand breaks lead to chromosomal breaks during synthesis phase. Apart from the breaks, even whole chromosomes (with centromere) also can appear as micronuclei when they fail to migrate into the daughter nuclei during the formation of nucleus.
<![if ! supportEmptyParas]> <![endif]>
Just like the cause of micronucleus are manifold, the assay methods too are diverse. The following photograph is the micronucleus due to radiation damage in human peripheral blood lymphocyte analysed by cytochalasin-B blockage of cytokinesis.  This method is used as a qualitative indicator or radiation damage and chemical genotoxicity in human population.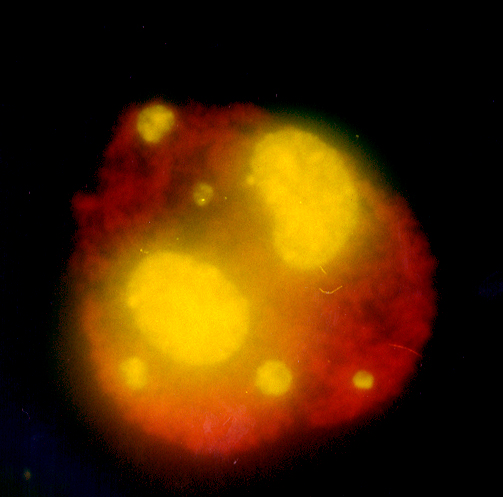 <![if ! supportEmptyParas]> <![endif]>
<![if ! supportEmptyParas]> <![endif]>
<![if ! supportEmptyParas]> <![endif]>