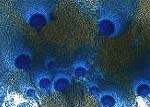 "How do I grow bread mold?" and, "How does [your favorite toxic substance] affect bread mold?" are among the two most popular science fair-related questions we receive ;) If you're looking for information about bread molds, here's a good starting point.

Bread molds can cause infections! particularly in people with respiratory problems or a weakened immune system. Handle molds with care, always with gloves and in sealed containers, such as tupperware. Decontaminate surfaces or contaminated items with a solution of 10% bleach. Be certain to talk with your science teacher about their proper handling and disposal.
General information about molds:

Conditions affecting the growth of molds:


White or wheat? which bread grows molds the best?


Identifying molds

Working with molds

Other bread mold science fair questions

Molds on Cheeses!

Mold on other kinds of foods.
---
---
MadSci Home | Information | Search | Random Knowledge Generator | MadSci Archives | Mad Library | MAD Labs | MAD FAQs | Ask a ? | Join Us! | Help Support MadSci